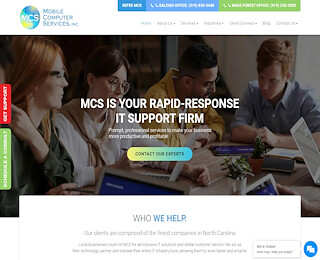 Are you thinking about outsourcing your IT to a managed service provider in Raleigh, NC? Mobile Computer Services can take over the IT needs of your organization. Most businesses start off small with just a few computers and a few pieces of equipment – nothing that they can't manage themselves. The IT is taken care of in-house, and they may have an employee who knows how to do backups and scan for viruses. However, as time goes on, businesses typically grow, and the business owner says, "I need someone to help me with my IT needs on a full-time basis." That's where Mobile Computer Services comes in.
Should You Outsource Your IT Services?
When a business owner or a decision-maker comes to this decision, they pretty much have two choices:
They can either hire a full-time employee or multiple employees.
They can outsource their IT needs to a managed IT services provider.
When you outsource your IT needs to Mobile Computer Services, we can take care of things as small as checking for backups, updating anti-virus software, ensuring that all computers and equipment are functioning as optimally as possible, and more. Of course, Mobile Computer Services deals with both software and hardware.
What We Can Do for Your Old Equipment
Mobile Computer Services can also help with the cycle of computers and technology equipment. For most businesses, they need to update or buy new hardware every two to three years because technology is changing so rapidly. Just staying up-to-date with the current tech can be overwhelming for any sized business. Additionally, it only takes about three to four years for computers to slow down, break down, and not be as effective as they once were. 
Again, there a few things you can do to combat these problems.
Ever two to four years, you can buy all new computers and equipment. Some companies will choose to bite the bullet and start over, but after a few years, it gets old, and it gets expensive!
MCS can optimize and do some work to your existing hardware to make them run very well, even in their 'old' ages.
Some organizations will choose to rent or lease their computer equipment from a company like Mobile Computer Services. This way, they can easily upgrade as needed with very little cost compared to buying everything brand new.
You might be surprised at how well we can make those old computers work again. We've gone into companies where the technology was very old, and there was a lot of frustration from the staff about performance impediments. Still, in cases like these, updating and working on old computers to make them run better is only a temporary fix. It's just a matter of time before we have to come back and fix it all again. That's why it's better to replace old equipment with new equipment to provide a much better experience for the organization's users.
Make no mistake; this frustration comes back to the company! And slow and outdated equipment can be very costly for a business. Choose Mobile Computer Services to be your managed service provider in Raleigh, NC, and we'll take care of all of that – plus more – for you.
Mobile Computer Services, Inc.
9198309448
8009 Creedmoor Rd Ste 200
Raleigh
NC
27613
US